Duchy College Micropropagation Unit
A nationally renowned research unit for the propagation and cultivation of endangered plant species
The micropropagation unit at Duchy College, Rosewarne was established in 1991, primarily as an educational resource for horticultural students studying at the College. Over a number of years, the Duchy College facility has become an important, nationally renowned, research unit for the propagation and cultivation of endangered plant species.

The Rosewarne Micropropagation techniques support the following;
The development of new propagation protocols for new retail lines
Conducting research on plant health
Preservation and reintroduction of important species
Rare Species Conservation
Bulking up nursery collections
Propagating new varieties, in confidence, for commercial release
Producing virus free stock by meristem culture eg. Potato, Daffodil, Rhubarb
Propagation of difficult to root species, eg. Daphne
The Rosewarne Micropropagation facility is still a valuable educational resource and we endeavour to keep the facility to a high standard of quality and cleanliness to encouraging best practice in our students. It is run by a small, dedicated and knowledgeable team.
Contact Us
Find Out More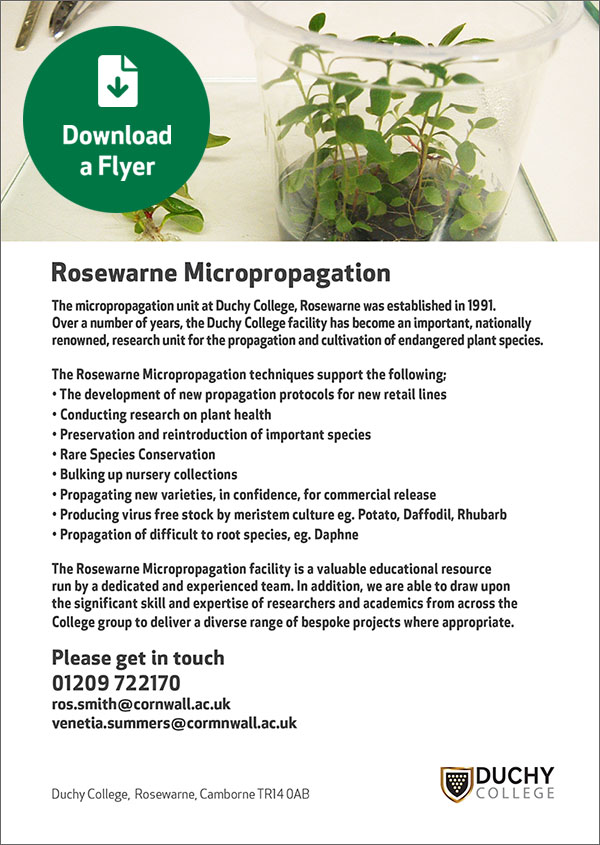 ---
If you have any queries or would like us to provide you with a quotation please contact:
Call us
Email