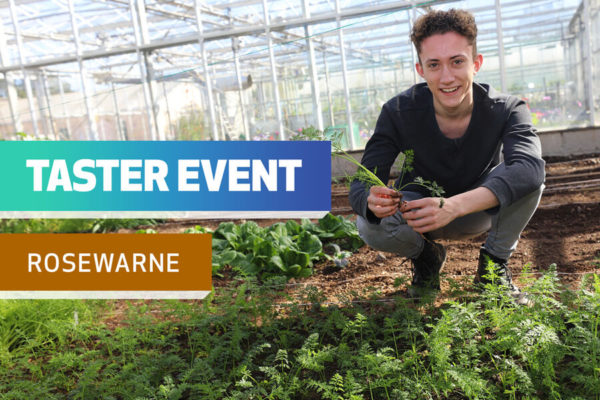 Taster Day at Duchy College Rosewarne
Try a subject before you apply! 
If you are a year 10 or 11 student, our taster days are your chance to get a taste of what college is really like. 
You will meet our expert teaching staff, experience real course activities and try out the equipment, plus meet other potential students so there are familiar faces when you enrol. 
You can book a Taster Day at Duchy College Rosewarne in the following subjects: 
Animal Care & Management – Experience practical lessons in our exotics rooms and small and large mammal areas for a truly hands on learning experience. You will also have a lesson linked to veterinary nursing and animal biology. The day will consist of four practical and theory sessions so that you can experience what it is like to be a student in the animal management centre.
Agriculture and Landscape Operative – Join our taster day where you can investigate courses in agriculture, horticulture and landscaping as well as conservation and sustainability. Learn how to use a range of landscaping equipment, create botanical features and delve into the world of pests and diseases as well as an introduction to agriculture apprenticeships. Come and have a go at the sessions so that you can make the right college choices for your chosen career path in the land-based sector.
FAQ's
What do I do when I arrive?
Please follow open day signs to reception. You will be greeted there.
Do I need to attend with my child?
You are welcome to come in with your child to register, however we encourage parents to drop off. Once registered, you can leave your child with the relevant curriculum areas
Do I need to bring food?
Please bring a packed lunch.
What equipment/ clothing should I bring?
Wellies and a coat
What time do I need to pick up?
Pick up is at 3:00
How do I get there?
Please use Sat Nav postcode TR14 0AB.
What3Words – large.option.responses
BOOK YOUR PLACE
Please only book a ticket for the person looking to studying at Duchy College Rosewarne.
You can bring along as many guests as you would like, they don't require a ticket
(PLEASE NOTE – this event is for school leavers)